I've decided to join in the Marriage and Relationship Goals link-up with
Amberly
and
Kalyn
. This link-up happens weekly, but I am going to commit to it monthly instead. It's more reasonable with the amount of time I have to devote to journaling my goals and updating them. So, here we go!
I've said so many times before just how blessed I am to be the wife to my dear husband. I'd link up several examples, but it's pretty much every post. Okay, okay, here are just a few in which he's the center topic:
My Husband, My Hero
;
Lover, Lover
;
Happy Birthday, Colten
.
I try my best to be optimistic - every day. I've had my rough days, believe me! But I'm much happier and better off when I stay optimistic, when I'm not festering in my unhappiness. Marriage is part of that, too. Marriage is
hard work
! No relationship is perfect, and I'm definitely no exception to that. I love this idea of monthly marriage goals. It makes me more intentional in my marriage. It opens my eyes to truly appreciate my husband and strive to become a better wife for him. With that said, this month I am going to really focus on my husband's love language. With everything that's beeng going on in my life with
working so much
and family things, he's 100% supportive. He doesn't argue with me; when I lose my patience and take out my anger on him, he doesn't get mad at me; he tells me that he's there for me and loves me. He goes out of his way to make sure that I'm taken care of as best he can right now. I don't want to fail him. I
need
to make
more of
an effort to really show him that I love him - to really go out of my way and succumb to the needs and wants that his love language calls for. I'm going to
intentionally love my husband
.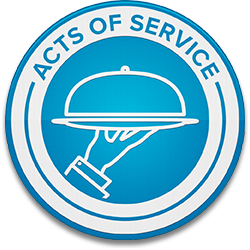 My husband feels most loved when I perform acts of service. Now, let's be honest here...I haven't had much time or energy (to be frank) to keep up with this. But this month, I'm going to be intentional and really focus on showing my husband just how much he means to me. How? By his love language of course! Doing the dishes, laundry, picking up around the house, taking out the trash, paying the bills, taking the dog out - these are all examples of what makes my husband feel loved. Why? Well, because it shows that I love him enough to take care of these things so that he does not have to worry about it. Cooking dinner or baking for him is another great example, since my hubby likes to EAT! ;)
Can vacuuming the floors really be an expression of love? Absolutely! Anything you do to ease the burden of responsibilities weighing on an "Acts of Service" person will speak volumes. The words he or she most want to hear: "Let me do that for you." Laziness, broken commitments, and making more work for them tell speakers of this language their feelings don't matter. Finding ways to serve speaks volumes to the recipient of these acts. -

www.5lovelanguages.com
My goal this month is to really hammer down on my husband's love language and ascertain exactly which acts that I perform around the house and for him really mean the most to him.
He does so much for me, it's only fitting that my first goal for this linkup be to really show my husband that I am attentative to his needs and really put forth the effort to not only reaffirm my love for him with words but to
show
him that my love for him runs ever so deeply. Emotionally, I tend to be
a tad bit
super complicated and needy. There, I said it! But my husband is so amazing and always knows when something is wrong and when I need something from him - even if it's just for him to listen to how I'm feeling. I truly want to focus on my husband this month, not the other way around. Although I will still love the love my husband will continue to show for me, I'm going to intentionally focus more of my time and energy on him. It's well overdue and much deserved! And I can't wait! I'm excited to show my love for my husband and to really make him
feel
my love for him. I hope he's ready!
Stay tuned to find out whether or not I accomplished this goal at the end of the month! ♥