Linking up with Karla at
Forever Newly Wedded
for the second Newlywed Game!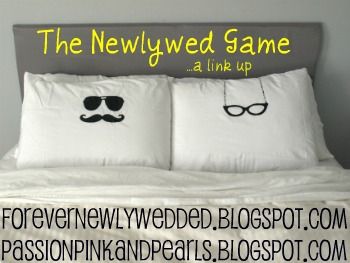 1. What was it about your spouse that made you think they were 'the one'?
Bri:
He had a genuine-ness about him. Even though I wasn't single at the time, he said he was going to wait for me, and he did! That's special right there, people!
Colten:
Everything.
2. What is your spouse's most annoying habit?
Bri:
Dipping tobacco :(
Colten:
I don't ever notice anything that much...oh, she snores!
3. Does your spouse have to sleep on 'their side of the bed', if so, which side?
Bri:
We do have our sides, mine on the right and his on the left, but I tend to toss and turn throughout the night...sorry babe!
Colten:
I wish it were so, but she likes to sleep all over the bed!
4. How are you planning to spend Valentine's Day?
Bri:
Simple night in - homemade pizza and movie night!
Colten:
Make homemade pizza and watch movies.
5. Who usually ends up trying to resolve an argument?
Bri:
We both talk it out. It's one of the amazing things I love about our marriage!
Colten:
Both of us!
6. How many kids do you plan to have one day, if any?
Bri:
2 or 3
Colten:
600! No, 4. All boys! (umm, I don't think so!!!)
7. What is your spouse's best friend's name and do you get along with them?
Bri:
Kyle, and we get along :).
Colten:
Hilary. Yes, we get along. They're sisters!
8. If your spouse one day told you that they are an ex-convict, how would you react?
Bri:
I'd be a little freaked out to be honest! But I'd definitely want to know what he did...
Colten:
'Ok. You aren't going back to jail are you?'
9. Do you wish your spouse would stop doing a particular routine?
Bri:
Staying up until all hours of the night playing video games.
Colten:
She doesn't really have a particular routine. Unless she has a routine I don't know about! (haha!)
10. Did the honeymoon go exactly as planned?
Bri:
Yes! It was perfect.
Colten:
Yeah, it was a honeymoon!